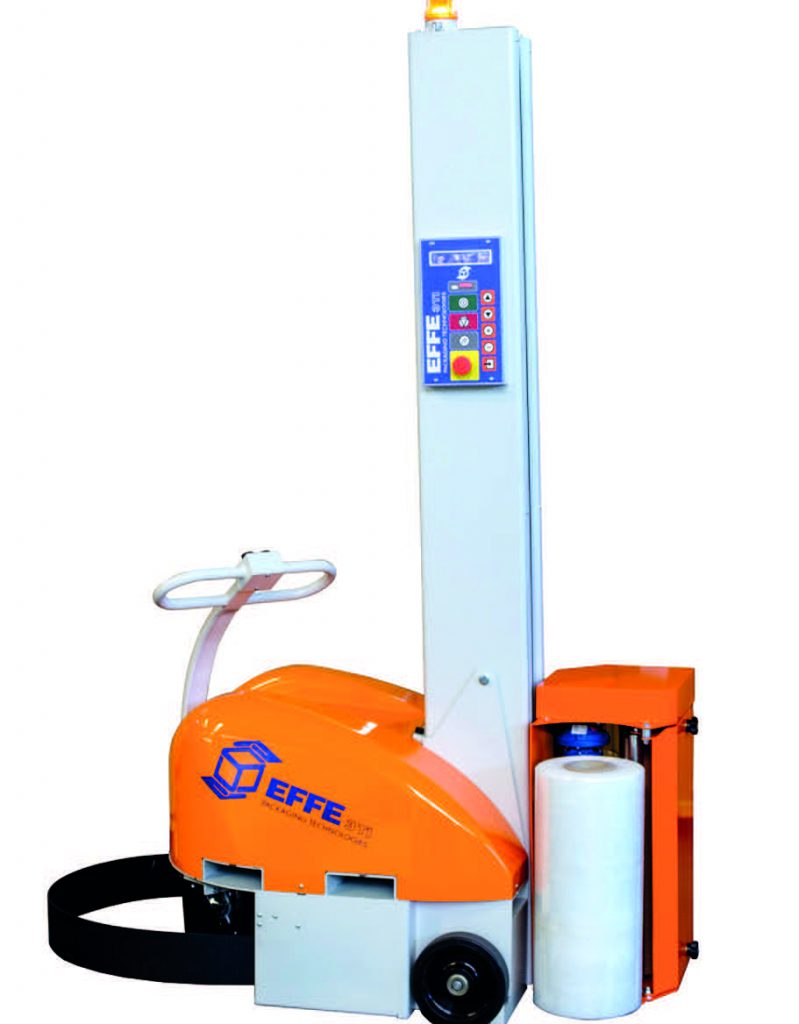 MAIN FEATURES
Standard machine, maximum wrapping height 2100 mm.
• Dimensions WxLxH: 690x1060x2100 mm.
• Footprint of 1000mm from pallet during wrapping.
• Minimum pallet dimensions: 600mm x 600mm.
• Autonomy per charge: more than 350 pallets (W800x1200xH1500) with mechanical brake.
• Full charge cycle time of 8 hours (battery charger on board).
• Motion signal lamp and sound signal at the start and end of the cycle.
• Column height H: 2100mm.
• Weight 250Kg.
• Pallet height detected by photocell.
• Moving speed adjustment up to 1,5 m/sec with gradual start / stop.
• Adjustment of the film carriage speed from 3 to 5 m/min.
• Independent top and bottom reinforcement wraps.
• Rise and descent film carriage speed adjustment.
• Film tension adjustment.
• Middle reinforcement with height and number of wraps adjustment.
• Manual movement by directional steering wheel buttons.
• Hinged column for transport.
• Side and back forklift housing.
• Model V.1 — Film carrier with mechanical brake for film tensioning.
• Model V.3 — Film carrier with electromagnetic brake for film tensioning.
• Model V.5 — Film carrier with motorized pre-stretch 150% standard
(100%, 200%, 250% on request).
WRAPPING CYCLES
• Simple (rise only) Double (rise and descent).
• Cycle with top sheet stop.
• Departure at established height.
• Arrival at established height.
• Special pallets.
• Programmable reinforcement wraps.
OPTIONALS
• Column height 2600 mm or 3000 mm (others on request).
• Photocell for black products.
• Adhesive tape applicator.
• Automatic film cut at the end of cycle.
POWER SUPPLY
• Battery charger : 230 VAC single phase 50 Hz.
• Motors power supply: 24V CC.
• Installed power: 0.7 kW.
• Batteries: (2x) 12V 105 Ah (maintenance free).
• Auxiliary power supply: 24 V DC.
FILM (LLDPE) AND COIL CHARACTERISTICS
• Thickness: 15 ÷ 40 μm
• Advised thickness: 20 μm
• Internal coil diameter: 76 mm
• Height: 500 mm
• Maximum film roll weight: 16 kg
• Maximum external coil diameter: 250 mm