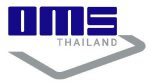 OMS Packaging (Thailand) Co.,Ltd. is the subsidiary of Officina Meccanica Sestese S.p.A. in Paruzzaro, Italy.
The objective of our head office is to serve the packaging needs of the industrial markets in Thailand by offering quality products, packaging technology and expertise available from OMS S.p.A., as a leading European manufacturer of complete range of steel strapping, plastic strapping, pallet stretch/shrink wrapping and customized pallet handling line design, as well as qualified customer services.
Our current product lines include:
Plastic and Steel strapping tools
Strapping machines
Stretch wrapping machine
Shrink hooding machine
Stretch hooding machine
Automatic pallet handling line
Polypropylene (PP) and Polyester (PET) Strapping band
Stretch Film (LDPE)
The transfer of first class production, equipment, rigorous quality controlled products and expertise, consistently manufactured to the highest possible international standard through a team of locally located personnel in the customer's vicinity.
OMS is committed to Customer Service and Quality Control with the ultimate aim of ensuring our customer satisfaction.
OMS is export orientated with active distributions and service network in Europe, America, Asia and Australia.
Committed as a specialized and full fledge provider of packaging products, our representation cover a wide spectrum of such product, carefully source and tested before bringing this to our customer's doorstep.
OMS Packaging (Thailand) Co.,Ltd. has just been established December 2007 to closer and more convenient for Thai customers. Even though we have just started the Thai office, we have directly commercial and engineering support from OMS Singapore. You can trust us about engineering service because every engineer was trained from OMS S.p.A. at Italy.
You can visit our headquarter's website at :
OMS Italy            : http://www.omsspa.com
OMS Singapore  : http://www.omssin.com.sg