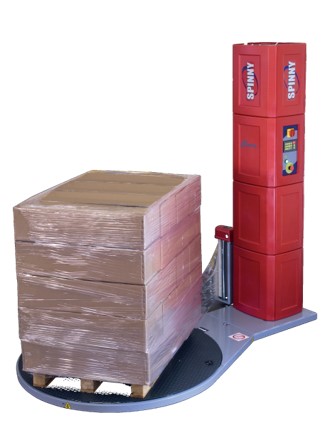 MAIN FEATURES
Spinny S140 is available in version PLUS, with mechanical brake, and ADVANCED, with electromagnetic brake.
• Rotating table Ø 1500 mm – load 1200 kg
• Distance column-rotating table 500 mm
• Wrapping height up to 2100 mm with photocell
• Programmable top and bottom reinforcement turns
• Rotating table movement regulated by variable frequency drive from 5 to 12 rpm.
• Rotating table stop in position controlled by sensor
• Variable speed of film carriage completely customizable.
• Independent top and bottom turns
• Film carriage fall protection system
• Electronic control panel with simple wrapping cycle, double wrapping cycle with top sheet,
manual wrapping cycle
• Manual film carriage stop for reinforcement wrapping turns.
SPINNY S140 TECHNICAL DATA
• The standard machine with turntable diameter 1500 mm, is designed to wrap palletized loads with stretch plastic film having the
dimension up to 1200 mm (L) X 800 mm (W), with a load capacity of 1200 kg.
• The turntable is also available with a diameter of 1500 mm, 1650 mm, 1800 mm and 2480 mm with a load capacity of 2000 kg.
• The column can be furnished to wrap pallets with heights of 2100 mm and 3100 mm.
• Table rotation speed and film carrier speed are regulated by inverter (turntable can rotate at a speed from 5 to 12 RPM).
POWER SUPPLY
• Tension: 230 V single phase or, on demand, 400-415 V triple phase ±10%
• Frequency: 50 Hz
• Installed power: 0.7 kW
• Auxiliary energy supply: 24 V DC S140 PLUS models, are equipped with MECHANICAL BRAKE system. Film coil Ø up to 250 mm
FILM (LLDPE) AND COIL CHARACTERISTICS
• Thickness: 15 ÷ 40 μm
• Advised thickness: 20 μm
• Internal coil diameter: 76 mm
• Height: 500 mm
• Maximum film roll weight: 16 kg
• Maximum external coil diameter: 250 mm